Art Studio and Classes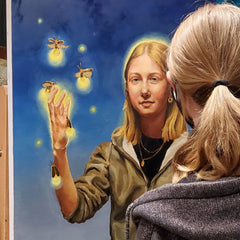 After School Art Studio
Accepting new students in August 2023 and ends May 31, 2024, Then repeats annually.
My name is Gabriel Coke and I am the instructor at Art Students' Atelier. I specialize in teaching talented children. I teach Drawing and Oil Painting with skills I practiced in my many years in Ateliers in Europe and The United States. Please feel welcome to contact me to discuss your child's needs, goals and abilities. Your child's success means a great deal to me. I offer year-round instruction, experience and letters of recommendation as your child approaches college admissions. 
After School Art Studio has run since 2012. Since its beginning this class has graduated new generations of young and skilled Art students who have gone on to study in several top Art schools and colleges in The United States and Europe. The success of these students comes from beginning as young as 12 years old and staying in the studio year-round until an extraordinary portfolio is built. These young students perform extremely well and approach college with experience and confidence.  
The studio is also fun, inspiring and supportive. The safe and functional atmosphere is nurturing and helps students concentrate for many hours at a time. All abilities are welcome and instruction is taught with heart warming commitment to everyone's well being. 
Parent Testimonials
My daughter has been coming to Gabriel's studio since middle school, from 6th to 11th grade. She has learned so much technique and skills, from charcoal to oil painting. Gabriel is a very talented artist and a great teacher, very patient with students with positive and encouraging teaching skill. My daughter not only improved her art, but began to truly enjoy the art. She decided to pursue art as her career.  She has been accepted by Parson's School of Design, major illustration for 2021 Fall term. We are greatly appreciated Gabriel's teaching over the years. 
Alison Pan

Saratoga, CA
Other Studio Sessions
The Atelier also hosts Open Portrait Studio three Thursday mornings each month. There is also Night Gallery Art Studio  on Tuesday evenings specially designed for working professionals. Tuesday Morning Art Studio is from 10 am to 1 pm.